CONTACT INFORMATION:
TEEN STAFF: Steve R. // TEL: (714) 891-0740 // EMAIL: steve@bgcstanton.com // ADDRESS: 11050 Cedar St, Stanton, CA 90680
---

How do I sign up for the Teen Center?
If you are a returning teen for 2021, 2021 Membership is FREE.
If you are new teen for 2021, you will need to schedule a Parent Orientation at our Front Desk at (714) 891-0740.
Parent Orientations are every Tuesdays and Thursdays at 5:30PM.

How much is transportation?

High School teens are FREE (as long as they go to one of the schools we currently pick up from).
For Junior High Schools, please contact us for more information.
How much does it cost for my teen to participate in teen programming?
Teen programming is FREE (some exceptions may apply).
Teen Nights and Teen Trips may have fees associated with them.
For more information about Teen Programs, Teen Nights, Teen Trips or about the Teen Center, please email Steve HERE
---
OUR DECEMBER CALENDAR FOR OUR TEEN CENTER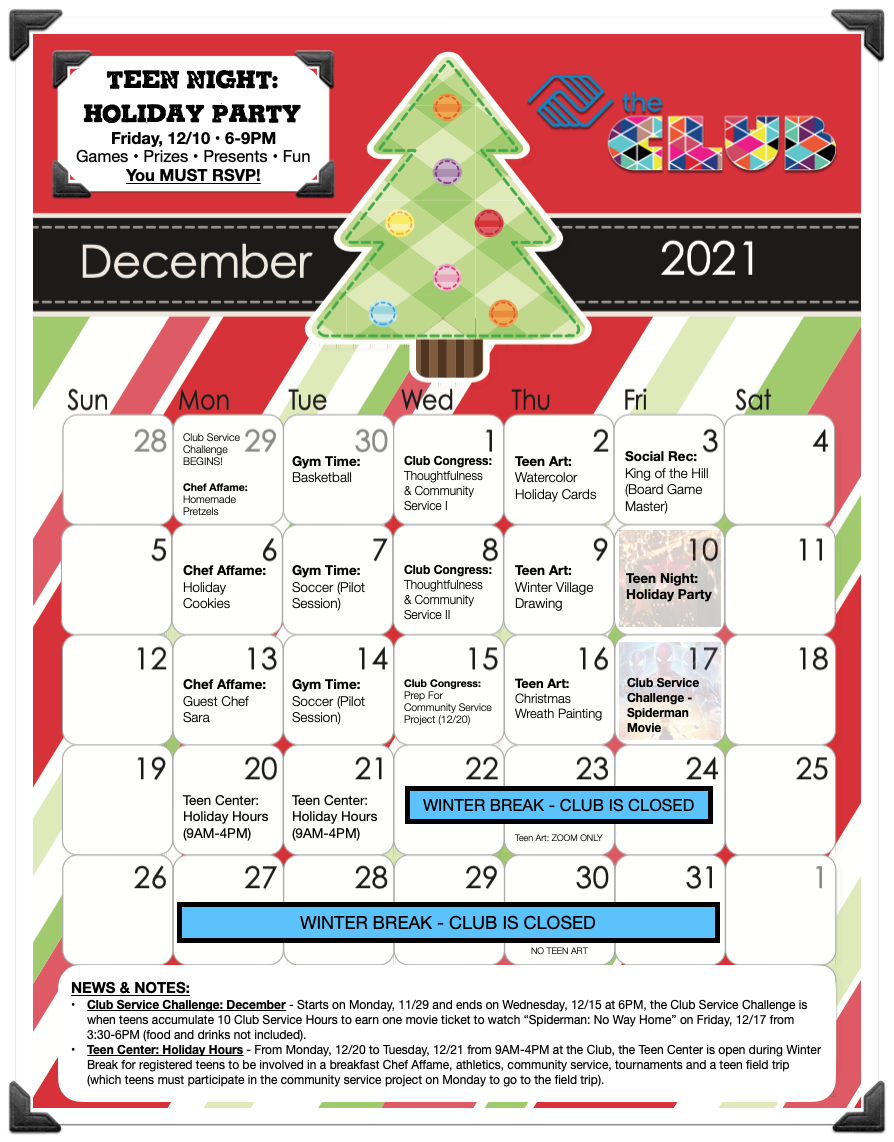 ---
2021-2021 SCHOOL YEAR @ THE CLUB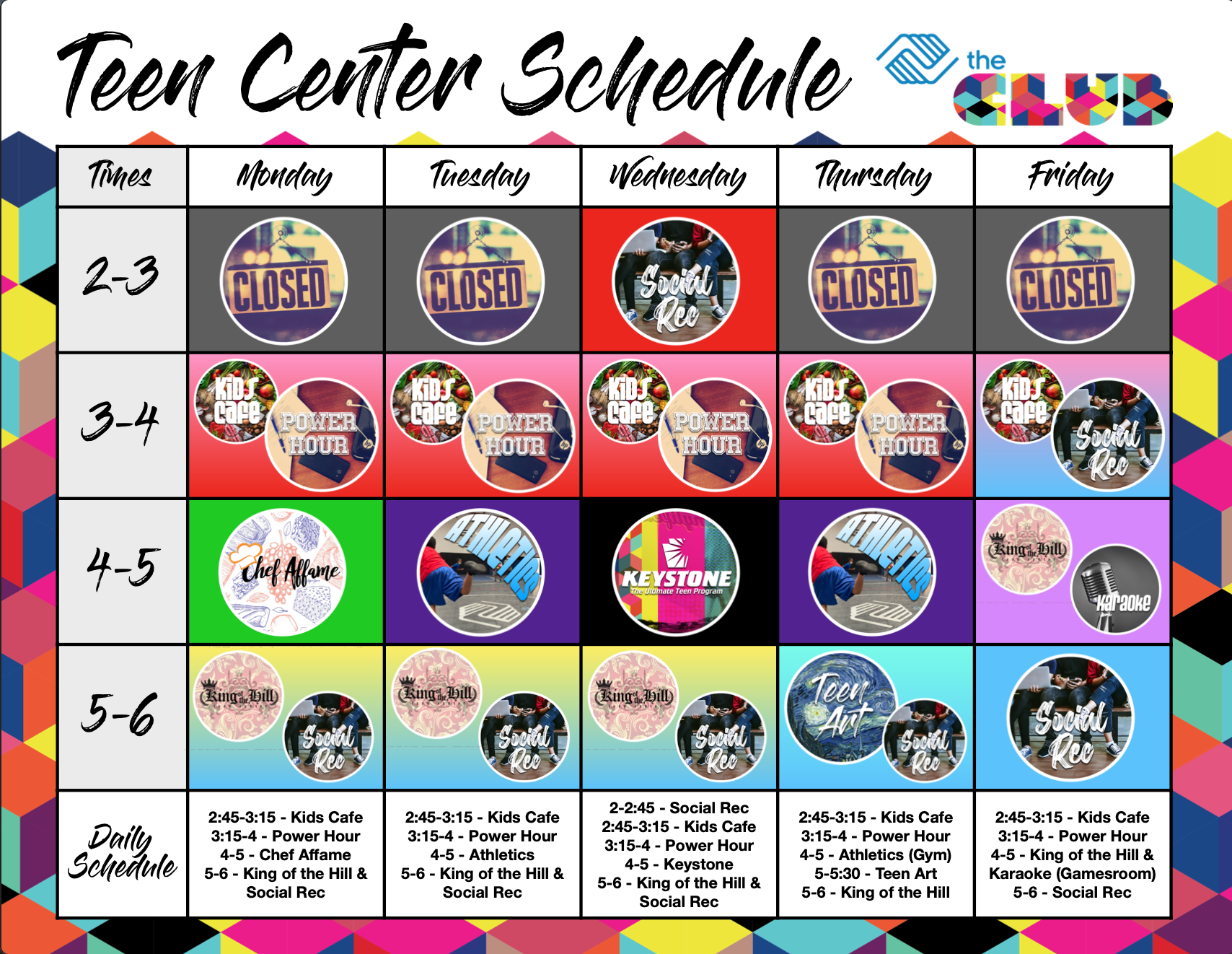 KIDS CAFE
Mondays-Fridays, 2:45-3:15PM
In partnership with Second Harvest Food Bank in Orange County, Kids Cafe offers FREE snacks and drinks to our Club youth and teens. Youth and teens are highly encouraged to receive snack and drinks during our Kids Cafe time.
POWER HOUR
Mondays-Thursdays, 3:15-4:00PM
Our Teen Center offers academic assistance to teens with their homework and other school studies during this time. Teens are highly encouraged to utilize this time for their homework, various projects and studies. Alternatively, teens who do not have homework are encouraged to participate in Club Service and assist Club youth and their homework and studies.
SOCIAL REC
Mondays-Fridays, Various Times
During Social Recreation (or Social Rec) times, teens have opportunities to develop, foster and engage in social skills through our Teen Center's board games, video games, weekly raffles and activities. Social Rec games and activities are structured and generally themed around a monthly theme or holiday(s).
CHEF AFFAME
Mondays, 4-5PM
Short for "hungry chef" in French, Chef Affame is our teen culinary class which aims to develop basic kitchen and cooking skills through hands-on appetizers, entrees and desserts. Due to the popularity of this teen program, space is limited to those who sign up for each Chef Affame session.
KING OF THE HILL
Mondays-Friday, 5-6PM
Our weeklong, tournament-style competition, utilizing all aspects of the Club, from board games to the Gamesroom in order to crown a King or Queen by the end of the week. Starting each Monday with a tournament, each teen can climb the ranks during the week, playing the game of that week. For more information, please download our King of the Hill info packet HERE.
ATHLETICS
Tuesdays & Thursdays, 4-5PM
Playing team-based sports in our Club's gym or at local parks near our Club, our Teen Athletics program engages our teens to play popular sports such as volleyball, basketball and soccer.
KEYSTONE
Wednesdays, 4-5PM
Utilizing resources and lessons from our nationally-recognized teen leadership progam from the Boys & Girls Clubs of America, Keystone aims to focus on our Four Areas: 1) Community Service, 2) Academic Success, 3) Career Preparation and 4) Teen Outreach. Keystone plans to reach our Four Areas through leadership and character sessions.
TEEN ART PROGRAM
Thursdays, 5-5:30PM
In collaboration with the Boys & Girls Clubs of Greater Anaheim-Cypress, the Teen Art Program involves our teens in painting, crafts, drawing and other artistic expressions through Zoom and online and Staff-led lessons. In order to participate in this art program, parents/guardians must sign a consent form HERE.
For more information about Teen Programming, please email Steve HERE.
---
Upcoming Events:
M, 11/29 - December Club Service Challenge Begins
F, 12/10 - Teen Night; Holiday Party (Teens MUST RSVP for this Teen Night)
F, 12/17 - December Club Service Challenge Reward: Spiderman (Teens leaves the Club at 3:00PM)
M-TU, 12/20-21 - Teen Center is OPEN (9AM-4PM) for Winter Break Programming
M-F, 12/22-31 - Club is Closed for Winter Recess
M, 1/3/22 - Club is Open
Club Forms & Documents Links:
Social Media Links: