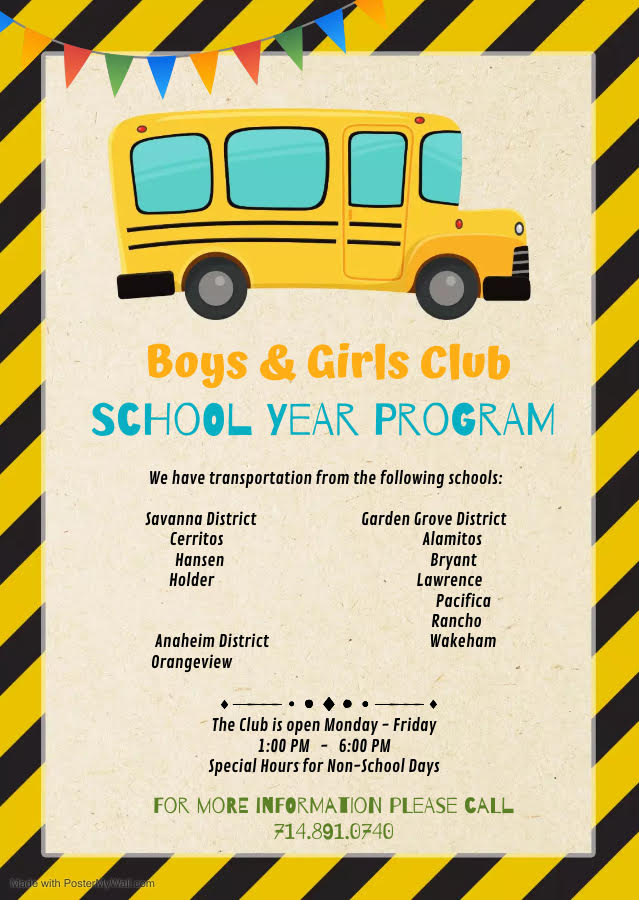 The Facility of Boys & Girls Club of Stanton
The Boys & Girls Club of Stanton offers a wide variety of services and resources.
---

Supervision
The Boys & Girls Club has a paid staff supplemented with volunteers that supervises members in all areas of the club. If a member has an issue he/she should alert a staff member immediately.

Indoor Gymnasium
The Boys & Girls Club has a full size gym equipped with a sport court floor that is great for basketball, volleyball, or just a good game of kickball. Ask about our clinics, teams, or the latest activities.

Power Hour
The Boys & Girls Club's biggest program, homework help and tutoring for all of our members. One hour each day the entire club shuts down and all members get the opportunity to work on their homework or other educational activities!

Programs for Kids
The Boys & Girls Club offers a variety of nationally recognized programs that are age appropriate and fun. We hope to inspire the next generation of future leaders through programs that foster character & leadership, education & career development, health & life skills, the arts, and sports, fitness, and recreation.

Membership
The Boys & Girls Club of Stanton is a private after school drop-in recreation program. Our annual membership fee is $20. The membership is good January through December.

Transportation
The Boys & Girls Club of Stanton provides after school van transportation from a select number of local schools to the Club. Please call the Club and ask for Linda, our Office Manager, for more information (714) 891-0740.
Donate to the Boys & Girls Club of Stanton
---
You can help make a difference today for a child at the Boys & Girls Club of Stanton. Our Club programs and services are supported by individual donations and fundraisers, every dollar counts. Please click the button and give what you can!
The Latest at Boys & Girls Club of Stanton
See what's happening at the Boys & Girls Club of Stanton
---
VOLUNTEER OPPORTUNITIES
The Boys & Girls Club of Stanton offers great volunteer opportunities and is an equal opportunity employer. The Club has many different departments that need volunteers, from our Learning center (Help with homework), the Arts Department (Help kids make arts and crafts), to Athletics (Helping kids learn sports). Please call the Club for more information 714.891.0740
Volunteers are always needed. If you are interested in volunteering for school credit, or if you just want to volunteer to give back, contact the Club's Unit Director
Our commitment to youth is made possible by support from people like you. If you would like to make a difference in the lives and well being of our youth, you can do so by volunteering your time as a mentor and role model. As you scroll through the various programs and departments of our Club, please remember that we have a constant need for volunteers in all areas of Club operation. Whether your interest is in athletics, technology, the arts or any other programming skills, we have a role for you to play in our mission.
MISSION STATEMENT
To enable all young people, especially those who need us most, to reach their full potential as productive, caring, responsible citizens.