CONTACT INFORMATION:
TEEN STAFF: Steve. // TEL: (714) 891-0740 // EMAIL: steve@bgcstanton.com // ADDRESS: 11050 Cedar St, Stanton, CA 90680
---
BASIC INFORMATION
How do I sign up for the Teen Center?
If you are a returning teen for 2023, 2023 Membership is FREE.
If you are new teen for 2023, you will need to schedule a Parent Orientation (every Wednesday, some exceptions) at our Front Desk at (714) 891-0740.

How much is transportation?
High School teens are FREE (we currently pick up from Rancho Alamitos High School, Pacifica High School & Western High School).
For Junior High Schools (such as Orangeview Junior High), please contact us for more information.
How much does it cost for my teen to participate in teen programming?
Teen programming is FREE (some exceptions may apply).
Teen Nights and Teen Trips may have fees associated with them.
For more information about Teen Programs, Teen Nights, Teen Trips or about the Teen Center, please email our Teen Staff HERE
For more information about our Teen Center's Mission & Just Cause, please click HERE.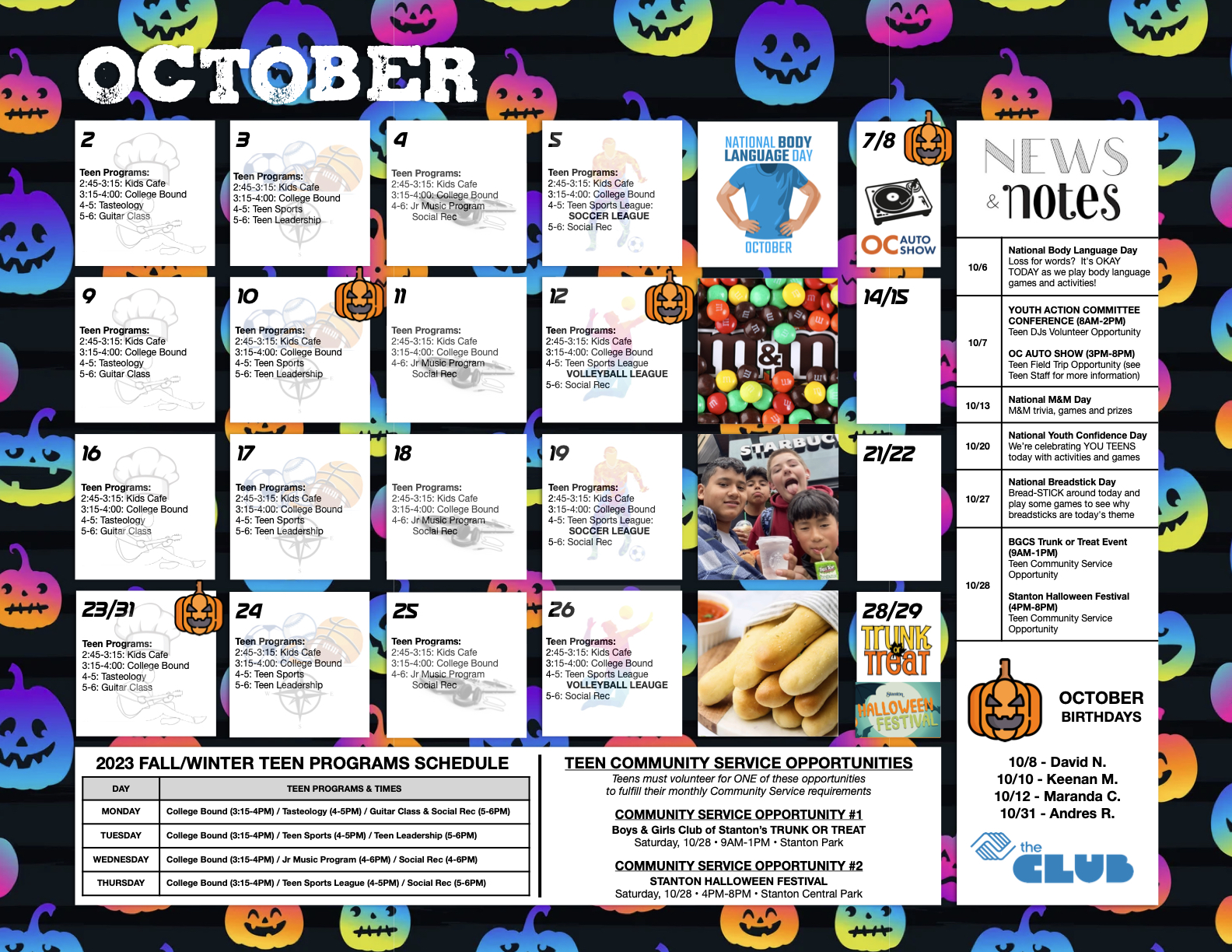 Upcoming Events:
09/29 - Teen Night @ The Club
10/07 - Volunnteer Opportunity: Youth Action Committee Conference (For Jr Music Program Only) from 8AM-2PM
10/07 - Teen Field Trip: OC Auto Show from 3PM-8PM
10/28 - Volunteer Opportunities

BGCS Trunk or Treat Event (9AM-1PM)
Stanton Halloween Festival (4PM-8PM)
---
2023-2024 SCHOOL YEAR @ THE CLUB
KIDS CAFE
Mondays-Fridays, 2:45-3:15PM
In partnership with Second Harvest Food Bank in Orange County, Kids Cafe offers FREE snacks and drinks to our Club youth and teens. Youth and teens are highly encouraged to receive snack and drinks during our Kids Cafe time.
COLLEGE BOUND/POWER HOUR
Mondays-Thursdays, 3:15-4:00PM
Our Teen Center offers academic assistance to teens with their homework and other school studies during this time. Teens are highly encouraged to utilize this time for their homework, various projects and studies. Alternatively, teens who do not have homework are encouraged to participate in Club Service and assist Club youth and their homework and studies.
SOCIAL REC
Mondays-Fridays, Various Times
During Social Recreation (or Social Rec) times, teens have opportunities to develop, foster and engage in social skills through our Teen Center's board games, video games, weekly raffles and activities. Social Rec games and activities are structured and generally themed around a monthly theme or holiday(s).
TEEN LEADERSHIP PROGRAM
Tuesdays, 5-6PM
Utilizing resources and lessons from our nationally-recognized teen leadership progam from the Boys & Girls Clubs of America, our Teen Leadership Program aims to focus on our Four Areas: 1) Community Service, 2) Academic Success, 3) Career Preparation and 4) Teen Outreach. Our Teen Leadership Program plans to reach our Four Areas through leadership and character sessions, pulling from aspects from our pre-teen leadership program, Torch Club, and our teen leadership program, Keystone.
TASTEOLOGY
Mondays, 4-5PM
Focusing on building culinary and kitchen fluency and skills, Tasteology (in conjunction with Bro Code and Girl Code) provides boys and girls hands-on opportunites to learn to bake, cook and other ways to create monthly themed appetizers, entrees and/or desserts.
TEEN SPORTS
Tuesdays & Thursdays, 4-5PM
Teens will be able to have time in our Club gym, playing teams sports such as basketball, soccer, volleyball and other sports. On Thursdays, teens will play either soccer (1st and 3rd and 5th Thursdays of every month) or volleyball (2nd and 4th Thursdays of every month)
JR MUSIC PROGRAM
Wednesdays, 4-6PM
Teens will experience what it means to be a DJ by learning on specialized DJ equipment and programs, expressing themselves through lyrics with local poets, creating their DJ persona and digital logo with local digital artists and photographers, and showcasing their DJ skills and techniques in front of their peers.
NATIONAL HOLIDAYS
Fridays, 4-5PM
Teens will be able to celebrate the quirky and unique holidays that also aim to engage and enrich world knowledge, traditions and customs that are not always in the mainstream.
For more information about Teen Programming, please email Steve HERE.